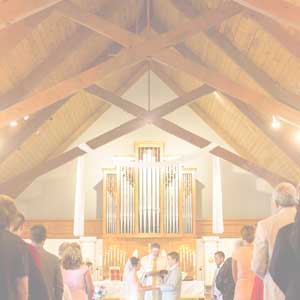 "The union of husband and wife in heart, body, and mind is intended by God for their mutual joy; for the help and comfort given one another in prosperity and adversity; and, when it is God's will, for the procreation of children and their nurture in the knowledge and love of the Lord. Therefore marriage is not to be entered into unadvisedly or lightly, but reverently, deliberately, and in accordance with the purposes for which it was instituted by God."
-The Book of Common Prayer
Congratulations! To marry someone you love is a great joy, and in the Episcopal Church, it is a sacrament, an outward and visible sign of God's love.
St. Raphael's is a beautiful and sacred space for the celebration and blessing of a marriage among family and friends. The church is available for weddings of members and non-members and may be officiated by St. Raphael clergy or other clergy.
The sanctuary comfortably holds up to 200 people. The parish hall may be used for the reception or rehearsal dinner. In spring, summer, and fall, our award-winning gardens and neighboring scenery are a delightful backdrop for photos.
To find out more about weddings at St. Raphael's and schedule a tour, please contact the church office at 859-255-4987 or [email protected].
To take a virtual tour of the church, please click the button below.