St. Raphael Episcopal Church offers venue for Lexington KY area events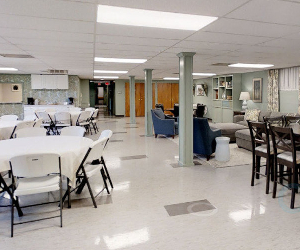 St. Raphael Church has recently renovated and offers the community an affordable, economical venue for community, neighborhood, and family meetings, reunions, gatherings, receptions, parties, and other occasions. Those in the Lexington KY area including communities in Versailles, Woodford County, Jessamine County, and Nicholasville will find a warm and welcoming space.
A beautiful stone church, conveniently located with plenty of parking
Located near a horse farm, the picturesque venue offers plenty of parking including handicapped spaces, a fenced play area for children, and an outdoor walking trail that leads to a creek. The outdoor chapel and Columbarium, flanked with award-winning gardens, provide space for outdoor gatherings. The property is well-landscaped and makes an attractive background for event photos. The church is located near the intersection of KY 4 (New Circle Rd.) and Versailles Road.
Accessible for the handicapped, elderly, and those with mobility issues
St. Raphael is accessible for those who need a little extra consideration. The venue offers:
Handicapped accessible entrances
Elevator/lift between stories
Accessible restrooms on both floors
Parish hall for meetings, parties, showers, breakfasts, luncheons, dinners, and receptions
The basement Parish hall is spacious enough for gatherings of up to 60 people if seated, more for a reception. There is a comfortable conversation area perfect for book clubs and small meetings. Round tables which seat up to 10 are great for buffets or table service as seated dining space.
Well-equipped kitchen for preparing, plating, and serving
The kitchen is roomy and offers a lot of counter space for plating. An exterior door into the kitchen area is convenient for caterers and food delivery. The kitchen offers the following amenities:
Smooth top range with oven and warming oven
Two refrigerators
Dishwasher
Stainless steel island
A Selection of Pots, pans, and cooking utensils
Dishware
Please note that the kitchen is not a commercial kitchen. It it suitable for private gatherings but not approved by the county for preparation of food for sale to the public.
Extra classroom and meeting rooms for bridal party preparations
Wedding parties appreciate having separate spaces for the bride's and groom's attendants to prepare for the rehearsal and wedding ceremonies. These spaces are also ideal for smaller gatherings and breakout sessions of larger meetings and conferences.
Nursery room with crib and toys
If your guest list includes children, the church offers a nursery area suitable for supervised play. A crib and rocking chair is great for the littlest guests. The downstairs restrooms have diaper changing facilities. There is an ample selection of preschool toys and games.
Reception space/gallery space on upper story
The area on the upper story near the Sanctuary and Nave may be used for small receptions and art and photo exhibits. The music room upstairs is a cozy meeting space for up to 15 people.
Beautiful sanctuary and nave
St. Raphael Episcopal church offers its sanctuary for weddings, funeral services, renewal of marriage vows, and other religious ceremonies and sacraments. The church seats up to 160 in the nave and up to 200 if the side chapel areas are used. Our pipe organ and piano are available for accompanying music. The church is equipped with a sound system.
Looking for a convenient event venue in Lexington KY?
St. Raphael Episcopal Church is a friendly and welcoming Lexington KY area event venue for gatherings of all sizes. Here is a partial list of types of events suited to the rental spaces at the church:
Meetings
Educational events
Conferences
Off-site retreats
Birthday parties
Anniversary parties
Bridal showers
Wedding receptions
Community events
Christmas parties
Holiday gatherings
Art and photography shows
The spaces for rental at St. Raphael's adapt to group sizes up to 200 and as few as a handful. Please consider the property when looking for event venue space near Lexington. Our amenities, affordability, plus equestrian flair and proximity to downtown Lexington and Keeneland make it a must-see.
Virtual tour of St. Raphael Episcopal Church now available
To get a better idea of what we have to offer, take a Virtual Tour. Visitors may tour the church during the parish office hours (see page footer) or by appointment. For more information, please contact Carl, Assistant to the Rector, at 859-255-4987 or email [email protected].