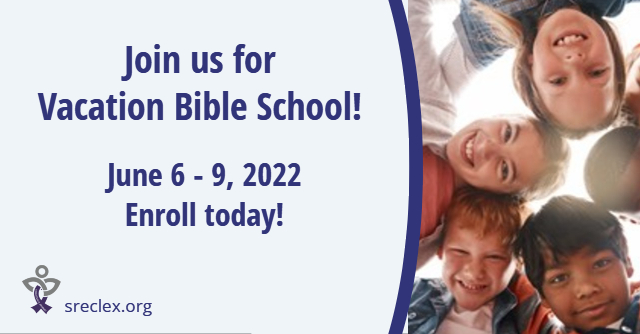 Join us for Vacation Bible School!
The theme for our VBS this year is Try Praying! We will focus on the power of prayer to change the children's world through compassion for others.
We learn compassion through play, prayer and joyful singing! Each day will include stories, music, crafts, and time outside, weather permitting.
Prayer is simple, costless, and can be done anywhere, alone and silently or with others. The gift of prayer is something that can enrich one's whole life.
Flyers are printed, curriculum chosen, and all we need is CHILDREN. Children in grades K-8 (in the fall) may attend Vacation Bible School (VBS) on Monday, June 6-Thursday, June 9 to be held at the church from 8am to 1pm.
Extended Day care is available. Please see the flyer (click here) for details.
Sign up for VBS at sreclex.org/vbs. Please share the flyer and the signup link with family, neighbors, and co-workers and post on community bulletin boards. The first registration deadline is May 1. If we don't have enough interest by then we will have to cancel, so please sign up today.