Join us for in-person services Sundays except for the last Sunday of the month.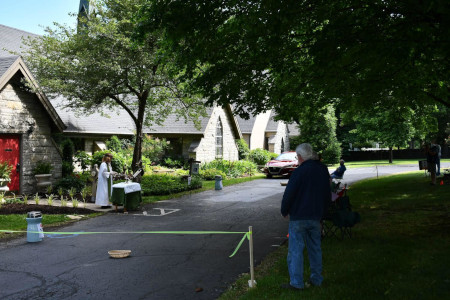 Our service will be a shorter version of the Eucharist service of Rite II, with readings, with Eucharist offered in one kind (wafer only) and socially-distanced. There will be neither music nor sermon – these will continue to be offered online so that those who are unwell or feel uncomfortable with attending in-person may stay healthy-at-home. Services will be outdoors in the shady area in front of the church building, and we ask that you arrive early to allow for parking behind the church for the able, and special parking in front for the physically unable. The service will take only 30 minutes, and, in case of rain, services will be cancelled.
Each person attending should please bring their own mask and wear it, covering nose and mouth, as per current public health guidelines. Masks will not be provided.
Please bring your own folding chairs for members of your household, and your own prayer books and Bibles (or access them online on your phones). Books and bulletins will not be provided.
A Summary of Diocesan Guidelines
"'Love the Lord your God… Love your neighbor as yourself." There is no commandment greater than these." Mark 12:30-31 This is our starting place. It is vital that our decisions demonstrate our love of God and family, friend, and neighbor in Christ Jesus.
In this chaotic and volatile time, the key question is not when but how we continue to be the Church. Our new understanding that the 'church has left the building' frees us to respond to the Holy Spirit in new and creative ways as we join in with God's Mission to put the world right again.
The dispensation from the obligation to attend Holy Eucharist on Sundays and Holy Days continues until further notice. Anyone who is sick or living with someone who is sick should stay home, as should anyone who is vulnerable for other reasons (such as underlying health conditions and age, as per CDC guidelines). Faith Communities offering live streamed and recorded worship should continue to do so and should communicate those options for those who cannot be physically present. For Faith Communities unable to offer services online, please direct parishioners to the listing of services at http://diolink.org/diolex/index.php/church-at-home/
After submitting a plan to Mission House that has been collegially reviewed by peers and consented to by our Bishop, Faith Communities may once again have public gatherings for weekday services, pastoral services, and Sunday services – so long as health and diocesan guidelines presented in this document are followed. Please remember that if infections increase, you will need to return to an earlier phase.
Permission is granted to hold outdoor services or drive-in parking lot services on your property. Faith Communities able to do so are strongly encouraged to consider this option, weather permitting. Physical distancing also applies to these events. Do not provide drive- through services to receive Holy Communion, nor send the sacrament through the mail.
Further guidance will be provided about the process for receptions and confirmations.
Use discretion in resuming visits to the sick and homebound and in the distribution of Holy Communion to these individuals. Policies in place at hospitals and other facilities are to be followed at all times.
Continue to utilize virtual meeting technology. If in-person meetings are deemed essential, follow the health guidelines provided.