All are invited. Please see event listings below to RSVP or sign up.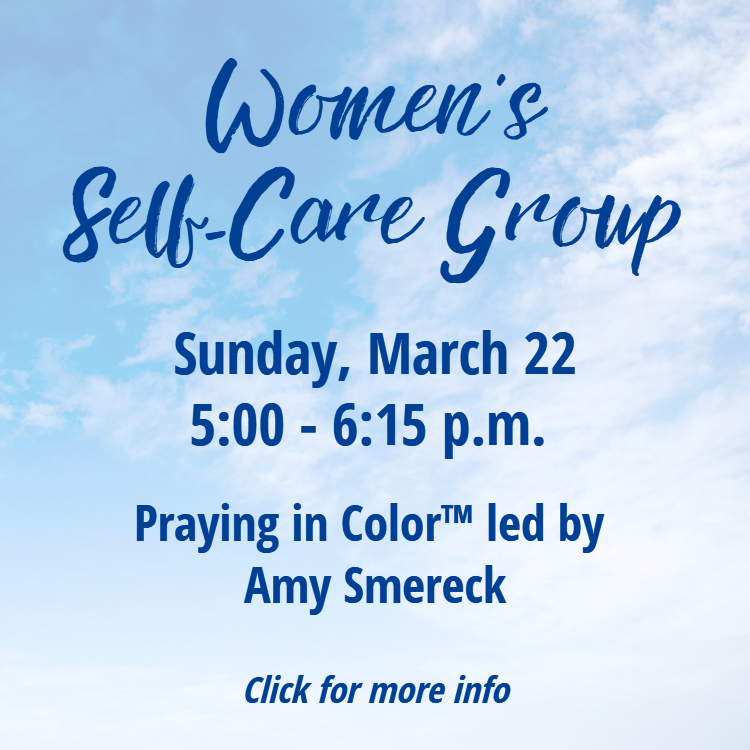 Women's Self Care Group  Sunday, March 22, 2020, 5:00 – 6:15 p.m.
The next meeting of the Women's Self Care Group will be Sunday, March 22, 2020 at 5:00 p.m. Amy Smereck will lead a Praying in Color™ workshop based on the book "Praying in Color: Drawing a New Path to God" by Sybil MacBeth. Praying in Color is part meditation, part doodling, and part prayer. "Drawing is half the prayer, the other half is transporting the visual memories or actual images with you to pray throughout the day." See if this is an activity you might like to incorporate into your personal faith practice. Basic materials (markers and paper) will be provided. If you'd like to bring your own markers and sketch pad, please feel free to do so. Beverages and light snacks will be provided.
Due to COVID-19 this is now a virtual class. Please join us at the appointed time for a Facebook Live on our Facebook Page.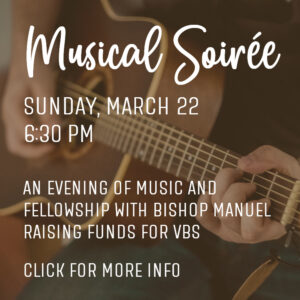 Musical Soirée
Sunday, March 22, 2020 at 6:30 p.m.
Join us for a fun evening of music and fellowship with Bishop Manuel. Wine and cheese reception.
This event has been cancelled.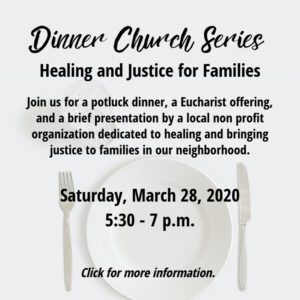 Dinner Church
Sunday, March 29, 2020 at 5:30 p.m.
For the March 28 Dinner Church (5:30-7:00), Dr. Margaret McGladrey will use her background as a sociologist to offer an interactive presentation on poverty as a major contributing factor to all social issues we are learning about from the non-profit organizations featured in our 2020 Dinner Church series. In this presentation, we will explore local statistics that indicate the needs and challenges facing low-income residents of our neighborhood. We also will play a "poverty simulator game" to help us walk in the shoes of those members of our community who must make impossible daily decisions about how to spend limited resources to provide for their families.
This event has been cancelled. We will meet again in April if circumstances allow.