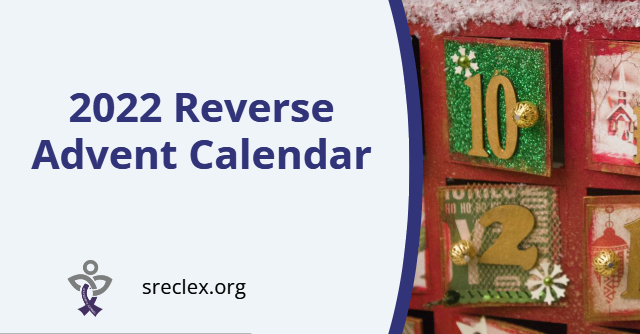 Reverse Advent Calendar starts November 27
Help local organizations which serve vulnerable children and families in our community!
Traditional advent calendars count down the days in December until Christmas by giving users a
surprise. With this reverse advent calendar, you are the one providing a treat to a vulnerable
neighbor. Bring items to the admin office on Sundays or from 11 am to 2 pm Monday, Tuesday, or
Thursday. We will distribute them to local organizations.
November 
27  Canned Beans
28  Note Cards
29 Postage Stamps
30 Cleaning Supplies
December
1  Packaged snacks
2  Individual fruit cups
3  Baby diapers and wipes
4  Toothpaste and toothbrush
5  Gloves
6  Deodorant
7  New socks (all sizes)
8  Canned vegetables
9  Rice
10  Cereal
11  Soups
12  Tuna and crackers
13  Peanut butter
14  Tissues
15  Toilet paper
16  Feminine hygiene items
17  Pasta
18  Canned pasta sauce
19  Canned fruit
20  Mac and cheese
21  Granola bars
22  Scarves and hats
23  Dessert mix
24  Blanket
25  $25 Kroger Cards
If you would rather make a monetary donation, contribute to the Mission/Discretionary Fund and list your intention in the "Gift Memo" field. One of our volunteers will shop for needed items for you. Give online here. Thanks!