Feeding Jesus' sheep in our neighborhood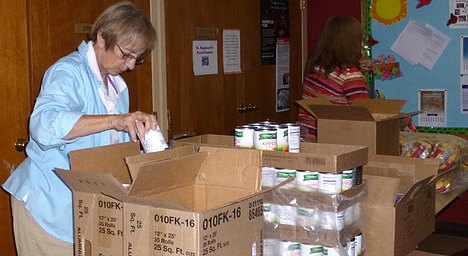 "Feed my sheep," said Jesus, and since He didn't have any real sheep, people have always taken this to mean, feed hungry people. St. Raphael's carries out this Gospel commandment through the Backpack Project in cooperation with our neighbor James Lane Elementary School. The church has committed to providing 101 food packs for children who are eligible for free or reduced-price lunches at school, to take home to eat on weekends. The cost for one child for the school year is $100. At the start of school each year, small paper packs are placed on the church windows, inviting us to pledge to support this project by giving $100 over the course of the year.
While this is our biggest outreach effort in the community, there are several other ways to feed Jesus' sheep. One is making deliveries for Meals on Wheels. Deliveries are made on Friday morning, usually by two volunteers working together, taking food to a small number of assigned people. Those who have done this say it is satisfying and enjoyable.
We maintain a food supply called the Angel Pantry in the Parish Hall to provide food on an emergency basis to anyone who asks for help. Nonperishable food items are always needed.